San Carlos German Motor Works (founded in March of 1975) is a Bosch authorized, independent service and repair center specializing in Audi, BMW, Mercedes-Benz, Porsche, Volkswagen, and Volvo. In 1990 we became a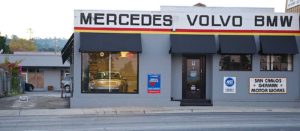 Bosch certified electronic systems repair center allowing our technicians advanced training which keeps us current with this ever changing highly technical field.
History of SCGMW
Thirty seven years ago, we started our business at 430 El Camino, San Carlos with three partners, Randy Salveson, Mike Sikora and Scott Davis. Randy was a Porsche trained technician and Mike was a factory trained technician from the Porsche factory in Germany. Scott, through his early ROP apprenticeship program with Mike and Randy, continues the business today. The business originally was named San Carlos Porsche Service, working on Porsche, Audi and Volkswagen.
After two years, we changed our name, leaving the trademark name "Porsche" out. (Independent shops cannot use trademark names in their titles.) Our new name became San Carlos German Motor Works.
In early 1978, our partner Mike Sikora decided to break away and start his own shop in Redwood City. Later that year, Randy and Scott bought the Arco station at 400 El Camino Real, a couple of doors north. This building became our service center while 430 El Camino Real was our engine rebuild center.
In 1989, Randy Salveson sold his interest to Scott Davis and started his own business, Colusa German Motor Works in Colusa, California. After Randy left the business we consolidated into a remodeled 430 El Camino shop.
In 1998, feeling severely crunched in the office we created a comfortable and efficient office in the building to the rear of the shop.
San Carlos German Motor Works through keeping up with latest technologies in automotive repair and servicing constantly endeavors to provide excellent and honest service and repair for our customers.